Ideas for Indoor Cricket World interviews?
More to come soon
. . . promise . . .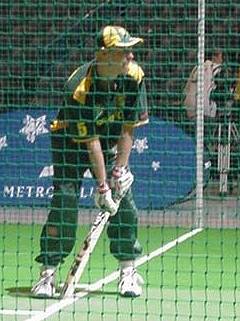 Interview
---
Tim Van Noort -- former South African Indoor Cricket World Cup Captain
ICW: Tim, there are a lot of readers chomping at the bit for your next installment, so to put them out of their misery we'll go with what we have up to now. So, as far as indoor cricket goes, who have been your major influences?
Nice to hear there are some folk interested in these interviews :) Influences......there are quite a few really, as there should be, but two people stand out in my mind as my major influences from an indoor cricket perspective. One is South African, and the other Australian. I'm talking about Andrew Hall and Dave Lewis.
As mentioned earlier I was lucky enough to bat with Hally on the 1994 tour of Australia and also the World Cup in England in 1995, and we also managed to form a useful cover/back stumps fielding partnership. He is an absolutely quality cricketer (as he is now proving for South Africa proper!), and coupled with his determination and aggressive desire to be the best, he not only taught me a lot about the game, but also filled me with a high level of confidence in my own ability.
Dave Lewis coached the Australian men's team for what felt like forever. I unfortunately never got to sit in on his team talks, as I was on the other team getting the sharp end of his tactics. You would have to ask the Australian players of his time about his actual coaching techniques, but looking at his unbeaten record he was obviously a great coach (if not the best ever), and a genuinely good bloke. He always had time for a chat and a beer and I hope to sit down with him someday and pick his brain!
ICW: Indoor Cricket World is trying to nail Dave down long enough for an interview, so we'll see if we can uncover some of his secrets for you.
That should be interesting-I look forward to that.
ICW: Who are some of the best players you have played against?
We agreed at the beginning of our interviews that I wouldn't pick a "best team", but I will mention a few of the best I have played against.
From Australia: Alan Wilson Greg Mathews Dion Muir Craig Berger John Weber. And one of the best bowlers I ever faced was Clinton Chugg at the 95 World Cup!
From New Zealand : Robbie Kerr Robbie Bird Graham Murray Allan Hickford Craig Foster.
From England : Michael Edmonds Timmy Coleman Andy Walton.
I've heard there are some great players from Sri Lanka, but I have no personal experience of them yet so I can't name any from there, but I hope to play against them and some other new countries in the near future…
There are plenty of great players that I have not mentioned, and I think that if you have been privileged to play at the highest level it is a pretty good achievement in itself!
ICW: Thank for the time and effort you've put into this Tim, I know there are lots of people who really appreciate it, us included.
No worries Sheldon, it's been fun. Hope to catch up with you somewhere sometime soon. Thanks.
ICW: Likewise Tim. Thanks again.
Part 1 | Part 2 | Part 3 | Part 4