The Indoor Cricket World Cup 2000 starts in October this year, in South Africa. This is the third time this event has been held - previous World Cups were held in the United Kingdom (1995) and Australia (1998).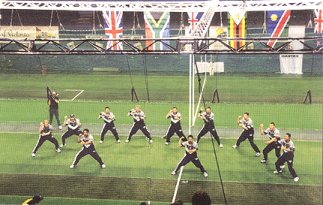 New Zealand perform the traditional Haka - World Cup 1998 © Amanda Broad
New Zealand
New Zealand have been a regular international competitor in indoor cricket ever since such competitions began. This is their third appearance in the World Cup.
Congratulations to the New Zealand fans - theirs are currently the most visited World Cup Nations pages at Indoor Cricket World.

New Zealand Player Profiles (including photos) here - and don't forget, the first of our "Postcards From South Africa" gives an in-depth, highly scientific analysis of each team's chances from the pen of the most respected commentator on Indoor Cricket alive ... well, okay, so he's the only commentator at the moment, but let's not split hairs.
Women
#1 Antoinette Spain - Captain
#2 Neisha Pratt
#3 Losi Harford - withdrawn - replaced by Liz Moore
#4 Gwynn Lewis
#5 Shelley Fruin - Dual International, also represented NZ in Outdoor Cricket
#6 Sarah White
#7 Sarah Curtis
#8 Cheryl Gorbey
#9 Anna Corbin
#10 Vanessa Chatfield
#11 Natasha Williams
#12 Helen Watson - Dual International, also in 2000 NZ Outdoor World Cup Squad

Coach: Tai Walters

Sports Trainer: Amy-Jean Reeves
(Thanks to Tai Walters and Amanda Broad for providing this information)
Men

The following is the New Zealand Men's World Cup squad. This list should be considered as provisional at this stage.
Leigh Kelly (c)
Robbie Bird - withdrawn - replaced by Nathan Daley
Iain O'Brien
Marc Calkin
Scott Findlay
Graham Murray
Craig Foster
Brendon Donkers
Anthony Timpson
Robert Orchard
Gareth Irwin
Brian Herman

Manager: Tony Chisholm
Fitness Advisor: Amy-Jean Reeves
Coach: Paul Botterill
Thanks to Paul Botterill and Amanda Broad for providing this information, and Amanda for providing her excellent photos of the 1998 World Cup. We'll soon have more of Amanda's work on display.
© 2000 Indoor Cricket World (formerly the Australian Indoor Cricket Page) shel@indoorcricketworld.com