Sometimes, it's just too nice to be indoors ...
1538 kilometres north of Perth, Western Australia, is the town of Karratha. From October through to April, the average minimum temperature in Karratha is over 20 degrees Celsius, peaking to an average of over 26 degrees in January and February. Needless to say, the daytime maximum temperatures are significantly higher.
Now, as nice as air-conditioning can be, there's nothing quite like being outdoors (at night) in Karratha during the warmer months. Because of this, there are many outdoor sporting venues set up with lights in Karratha. Including an Indoor Cricket court!
The Tambrey Indoor Cricket Association of Karratha is therefore probably unique - they play Indoor Cricket outdoors.
The following is a brief history of the Tambrey Indoor Cricket Association of Karratha, prepared by Paul Barber. Photos also supplied by Paul.
Tambrey Indoor Cricket Association Karratha, Western Australia
Tambrey Indoor Cricket started back in early 1997 when a group a people, consisting of five males and a female got together and formed a committee. The intentions of the committee was to have a non-profit organization. We then proceeded to approach the Tambrey Centre (which is a Tavern complex, which also has squash courts, tennis courts, a swimming pool, 3 small function rooms and a nice large function room) which is owned by Woodside Energy Ltd, but is run by a managing agent.

The indoor cricket is played on one of the four tennis courts. Three court's are in use, and the fourth had an old cricket pitch. This was from years before when they played Indoor cricket for a short time before Karratha had an Indoor venue. This is not like any other cricket pitch - the pitch surface is your normal short blade artificial turf, the outside area round the pitch is the normal tennis playing surface, long blade turf with lots of sand in the turf. As the pitch was already there, this was a good starting point to get talks under way.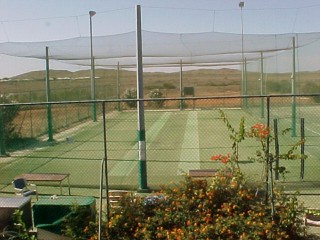 Once we knew what was required to get the association running (like a net and additional lighting to make it brighter for small ball sports) we started talks with both parties involved. The cost of getting a net and additional lighting is not a cheap exercise. So with the support from the Tambrey Centre, a business agreement was decided on, and it was decided that a court hire fee was the best way of repaying the money. Once that was all arranged we then had to organise insurance, cricket equipment and most of all, players and teams. A nomination night was arranged and the response we got in teams wanting to play cricket was huge.

We had planned that the best nights to play were Tuesday, Wednesday and Thursday and there would be three games a night, maximum of eighteen teams. Those eighteen teams spots got taken very quickly which exceeded our expectations, we even had to turn teams away and put them on a waiting list. You couldn't wipe the smile off the face of a couple of men from the Tambrey Centre who were involved in the talks on how many people wanted to play cricket.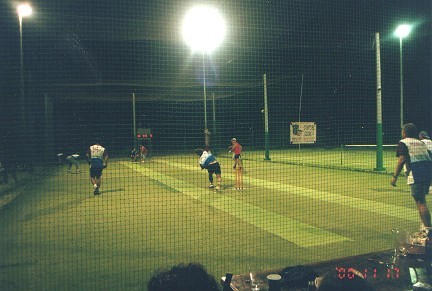 The Inaugural season started in May 1998 and is now nearing the end of the year 2000 with about 250 members signed up. Since the start we have only had three teams pull out, but their spot was quickly filled. This non-profit organization would not have been possible with out the time and effort by the committee and most of all the full support from the Tambrey Centre - we can't thank them enough.

Paul Barber.
© 2000 Australian Indoor Cricket Page, Indoor Cricket World (shel@indoorcricketworld.com)